(Promotion)* Have you ever tasted a confiture made of wild roses? Tuuli and Matti Kotaja are cultivating them on their farm in Vampula, in Western Finland. But what makes their wild rose jam so special? I talked to Tuuli and Matti at the International Green Week in Berlin in order to get to know more about the secret of their extraordinary Rose Petal Confiture.
Finntastic:
Moi Tuuli ja Matti, on tosi kiva tavataa teidät Berliinin Vihreä Vikolla. Teidän Ruusun Terälehtihillonne (Rose Petal Confiture) on herkullista! (It's nice to meet you in Berlin at the International Green Week. Your jam made by wild roses tastes wonderful!)
How would you describe its taste and with which food should we try it?
Tuuli:
Our Rose Petal Confiture has a fresh, floral and unique taste with a hint of bitter and can be combined well with numerous foods and drinks, for instance cheese, vegetables, duck, fish and venison, a glass of sparkling wine or dry Gewürztraminer for special occasions or with desserts. The noble aftertaste is long lasting.
Finntastic:
How did you came up with the idea of producing your Rose Petal Confiture? How did you get all the knowledge about the plant and the cultivation?
Tuuli:
Matti has always loved roses and he thought, it would be nice to start growing them professionally. He grew up on the farm and had been a farmer since he was a young man. Initially, the idea was to start producing rose oil, but it was my idea to create a jam made with rose petals.
Getting the expertise to grow roses and create the jam was a long process. First Matti and I had a test area for several years. But then in 2012 we had enough confidence to start growing roses (Rosa Rugosa Hybrid) professionally.
Creating the recipe for the rose jam also took several years of trial and error. It was particularly challenging to get the texture of the jam right, combined with the flavour to bring out the right aroma of the arctic rose.
Finntastic:
What is so special about the arctic rose "Rosa Rugosa"?
Matti:
The wild arctic rose "Rosa Rugosa" is well adapted to the Nordic climate. It grows wild in Siberia and is very resilient. However, the rose farmed at our farm is a hybrid, a multiplied version of the wild rose. The colour is vibrant and it is packed with antocyans.
Finntastic:
Just tell us a bit more about your Kotaja Farm in Vampula. Where in Finland is it located and how big is the plantation?
Tuuli:
The farm is located in Vampula, in Western Finland, about 75 kilometres away from Turku and 80 kilometres away from Pori.
Matti's grandfather built the farm house in 1917 and since then the family has been farming here. Currently, the cultivated area consists of 37 hectares, of which six hectares are planted with roses. This is equivalent to 24.000 plants.
Finntastic:
Which products do you also produce on your farm?
Matti:
The farm produces also organic wheat and clover. The development work for roses is ongoing and hopefully in the future the rose products will be based on own breed of roses, named "Rosa Kotaja". The roses grown in the test area have shown promising quality: they are high in antocyans and are well adapted to the Finnish climate and growth period.
Finntastic:
How is the Rose Petal Confiture produced. How many rose leaves are needed for one jar of preserve?
Tuuli:
The rose petals are gently picked by hand and only the best flowers are selected. They are freezer dried and cooked in a delicate process. The harvest season starts in June and continues all the way until September. For one jar of rose petal jam you need five flowers, which is equivalent to 100 petals.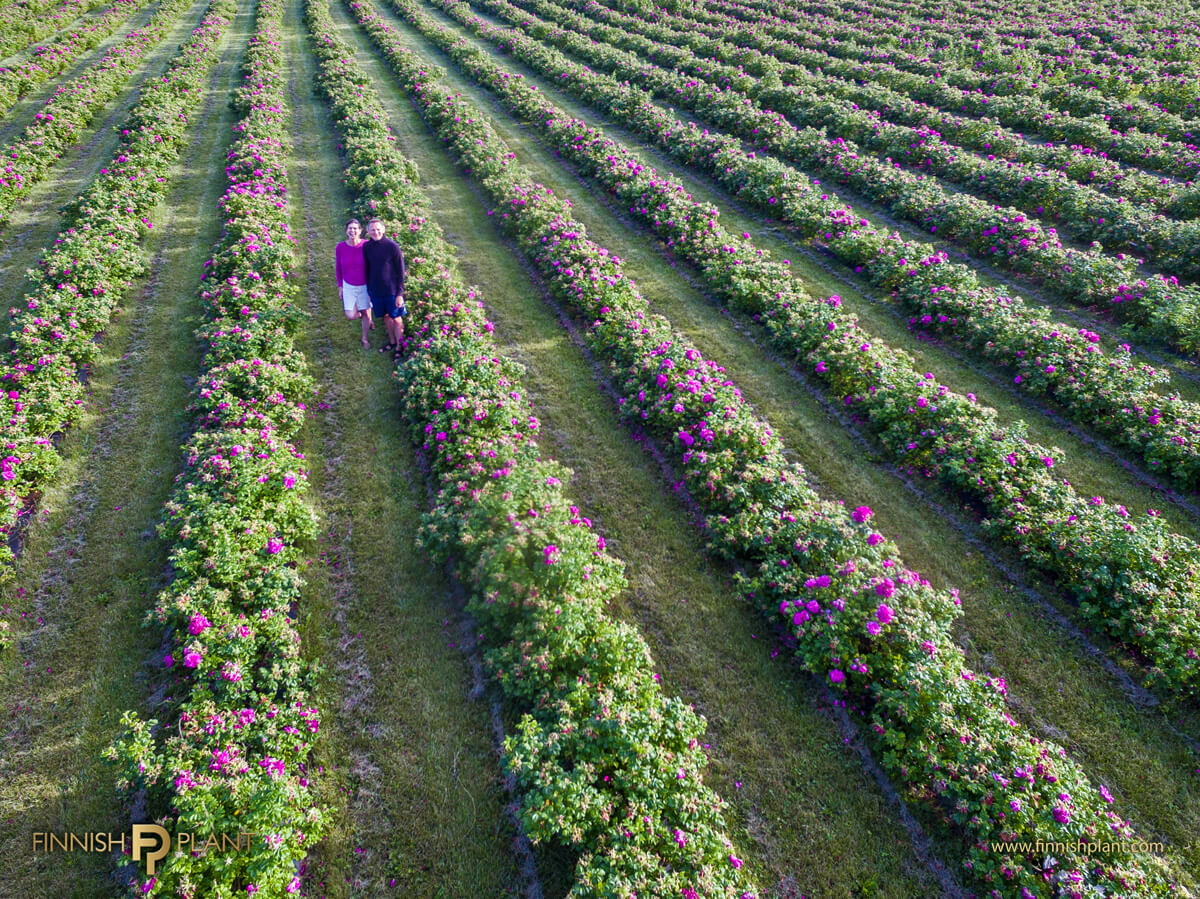 Finntastic:
And to which countries apart from Germany do you sell your confiture? And where can we get the Rose Petal Confiture in Germany?
Matti:
Our products are sold in in Finland, but also in the whole world, like Japan, the United Kingdom, Spain, France and Italy. In Germany Finnish Plant rose petal jam is available at selected Galeria Kaufhof stores and Citti hyper markets as well as online at bosfood.de, lieferello.de and littlefinland.de.
Finntastic:
I have read on your website too, that your family business has been also famous for a long time for the production of Finnish percussion congas, used by the best drummers in the world. This is totally different from farming. How is this connected with your family history?
Tuuli:
As a young man Matti used to play the piano and dreamt of becoming a professional musician. He also liked to play the drums. "When you are young, you're doing things", Matti once have said, so he decided to try and make his own congas with the assistance from a top musician he knew from the famous Finnish UMO Helsinki Jazz Orchestra.
It turned out quite well, you could say, and soon the drums were much sought-after by music celebrities around the world, like New York Salsa Machito Orchestra and Cuban Irakere Orchestra. The story unfortunately came to an end after a failed attempt to make it big in America.
When the rose business started Matti wanted to keep using the old logo consisting of two letters: FP. Initially the letters stood for Finnish Percussion but now they stand for Finnish Plant.
Finntastic:
Do you have some travel tips for the Vampula region? And is it actually possible to visit your farm too?
Tuuli:
Unfortunately, our family does not have the resources at the moment to accommodate guests. Filling the rose baskets is a fulltime job for us. But let's see, what the future brings.
Vampula belongs to the town Huittinen, which is located in the region Satakunta. This area is well known as "vilja-aitta" or bread basket of Finland, because the area is famous for agriculture.
The time travel portal in Satakunta, unfortunately only available in Finnish, gives more information, but also the local history museum in Vampula provides further information about the history of the area.
Moreover, a sculpture in shape of an elk head found in Vampula is the oldest known artifact depicting an animal head in Finland. That's why the Elk head is also the symbol of the museum and the town of Huittinen.
Finntastic:
This sounds really interesting. I think next time, when I come to Finland, I have to visit the Satakunta region.
Matti:
Thanks to you also for the lovely interview. Let us know, when you will be in our area. It would be lovely to invite you to our farm.
---
Matti and Tuuli's favourite recipe for a refreshing summer soup with rose petal jam:
Ingredients: (This is what you need for preparing the soup):
600 g* frozen peas
1 onion
3 tbs oil
2 garlic gloves
2 tsp* grated ginger
1 tsp* cinnamon
1 vegetable stock
3 dl /300 ml water
3 tsp* rose petal jam
400 g coconut milk
1 tbsp* lemon juice
2 tsp* balsamic vinegar
salt and pepper
*tsp/teaspoon, tbsp/tablespoon, dl/decilitre, g/gramme,
Cooking instruction for the summer soup:
Fry the chopped onion, garlic, ginger and cinnamon in oil in a kettle. Add the melted peas and mix everything to allow flavours to settle.
Stir the vegetable stock together with hot water and add it to the mixture. Allow the soup to boil for four minutes, then add the rose petal jam and the coconut milk.
Mix everything with a hand blender, but leave the peas a bit rough. Put everything back on the stove for a moment and add the lemon juice, balsamic vinegar, salt and pepper to your taste.
Serve it with creme fraiche, rose petal jam, chives and roasted seeds.
---
Rose Petal Confiture Prize Draw
If you are interested in Finnish Plant's unique Rose Petal Confiture, you now have the chance to win one of five Rose Petal jam jars! Take part until November 20th 2019!

How to win:
Answer the following two questions, by posting your answer in a comment under this post. Then you will automatically participate at the prize draw:
1. With which food would you combine the Rose Petal Confiture?
2. Which product of Rosa Rugosa would you also like to buy?
We wish you all good luck for the prize draw!
Finntastic Greetings
Inken, the Finntastic elks and Tuuli and Matti Kotaja from Finnish Plant
---
*This blog post is a cooperation with Tuuli and Matti Kotaja from the Finnish company Finnish Plant from Vampula, who provided the five Rose Petal Confiture jam jars for this prize competition.
---
Terms of participation, competition guidelines and data protection and privacy policy
By participating at this prize competition, the participants accept the following terms of participation, competition guidelines and privacy policy.
Applicable Law for this prize competition is the law of the Federal Republic of Germany. If individual conditions of participation and/or competition guidelines be or will have become invalid, the validity of the remaining guidelines will remain unaffected.
Terms of participation
The competition is open to any person aged 18 years or older.
The participation in the competition is only possible online via this blog post at www.finntastic.de. The participation is free of charge. The participants will not incur any expenses (not either for packaging and postage)! All lottery prizes due to the fact that they are not high-priced, will be send in general uninsured.
Each person may only enter the competition once. Multiple participations e.g. with different name profiles or e-mail addresses are not permitted and will automatically lead to an exclusion from the competition, in case it becomes obvious.
To participate in this raffle, the participants must answer the two following questions and have to post their answer in a comment under the blogpost:
1. With which food would you combine the Rose Petal Confiture?
2. Which product of Rosa Rugosa would you also like to buy?
Prize/profit
Among all participants of the "Rose Petal Confiture-Prize Draw" we will raffle
5 x 1 jam jar of Rose Petal Confiture by the Finnish company Finnish Plant from Vampula, Western Finland.
Material prizes are not paid out in cash and are excluded from exchange. Winnings cannot be transferred to third parties. There is no warranty or guarantee claim on the prize. Legal recourse is excluded.
Competition procedure
The competition runs from August 20th 2019 until November 20th 2019 exclusively on www.finntastic.de. The closing date for a participation is November 20th 2019 at 11:59 p.m..Subsequent solutions and comments, which will be send after this date, cannot be considered for this prize competition.
The determining of the eligibility of the participation as well as the prize draw will take place on November 21th 2019. The prices (see section: prize/profit), provided by the Finnish Company Finnish Plant, will be raffled among all participants, who fulfill the terms of participation. The winners will be selected at random. All winners will be notified by email.
In case of winning, Finntastic needs the correct first and last name as well as the postal address of the winners. These informations will only be passed on to Tuuli and Matti Kotaja from the Finnish company Finnish Plant, as well as to the Online shop Little Finland, who will be shipping the prizes later on. If a winner does not reply within seven days after being notified by e-mail, the claim to the prize will lapse.
Exclusion of participants
Finntastic reserves the right to exclude or delete participants from the participation, if they fail to complete the task or violate the conditions of participation or the competition guidelines. Participants, who manipulate the raffle (e.g. by entering several e-mail addresses or name profiles) can be excluded from the prize draw, when noticed. If a manipulation is figured out later, prizes can even be subsequently withdrawn and prizes already delivered can be reclaimed. Moreover, the misuse of somebody else's name will also lead to an exclusion from the raffle!
Cancellation/ Suspension of the competition
Finntastic reserves the right to cancel or interrupt the competition if she becomes aware of any manipulations or if it is no longer certain that the competition will be carried out properly. This applies for instance in case of hardware or software failures, program errors or unauthorized intervention by third parties (e.g. computer viruses, cyber-attacks) or if there will exist legal problems.
Data protection and privacy policy
As far as personal data of participants are collected for the prize competition (e.g. first name, surname or nickname, postal adress, e-mail address), these personal data will only be collected, processed and used by Finntastic for carrying out the prize competition. No data will be passed on to third parties, with the exception of Finnish Plant and Little Finland, who need this data for shipping the prizes to the winners later on.
The winners agree that in case of a win their first and last name or nickname will be published permanently on www.finntastic.de as well as on the social media channels of Finnastic (Facebook, Instagram and Twitter). If the winners disagree with that, they have to announce it to Finntastic after getting the price notification!
A participation in the competition does not lead to a subscription of the "Finntastic Newsletter"! Those who wish to subscribe to the newsletter have to do that by using the newsletter form on www.finntastic.de.
Person in charge of the prize competition
This is a private prize competition, organized by Inken Paletta, Josef-Brix-Straße 42, 65187 Wiesbaden, Germany, the site operator of www.finntastic.de (For more information: see imprint). The prizes (see also section prize/profit) was provided to the site operator by the Finnish company Finnish Plant from Vampula, Western Finland. The raffle is not connected to any other companies or persons and even not to social media channels such as Facebook, Instagram or Twitter.
The recipient of the personal data and information provided by the participants, thus the contact person and person responsible for this prize draw, is only the website operator of www.finntastic.de. All questions, comments and complaints concerning this competition should therefore be directed to info@finntastic.de.
Disclaimer/Exclusion of liability
The organizer (which means the website operator of www.finntastic.de) as well as the companies Finnish Plant and Little Finland are not liable for the shipping risk. Moreover, the organizer of this prize competition (which means the website operator of www.finntastic.de) is not liable for direct or indirect damages resulting from the participation or the inaccessibility of the internet server. Unless they are due to gross negligence or wilful misconduct, for which the organizer is responsible. Legal recourse therefore is excluded.