(Promotion)* The Finnish pop-rock band "Dark Ride Brothers" from Imatra in Southeastern Finland has already inspired their German audience in 2017 on their first Germany tour with several amazing live gigs, for instance at Kaiserkeller Hamburg or at Altstadtfest Salzgitter. In June 2019, the band will be touring in Germany again. I talked to Sven Langbein and Vesa Winberg about their debut album "Join the Ride", their new single "Safe and Sound" and the upcoming concert tour.

Dark Ride Brothers Reloaded – Interview with Sven Langbein and Vesa Winberg
Finntastic:
Moi ja hei guys, nice to talk to you again. It's totally crazy that our interview in August 2017 in Hamburg has almost been two years ago! I've heard that you have some pretty cool news! Just tell us about it!
Vesa:
Thank you for asking, it's truly amazing that it's been two years since we met. We've been working hard on every level and now it's time to step out of the cave and show you and our fans, what we've been up to! New songs, a new album, new brothers and a new look! We are totally happy that in the meantime Henri Varis, Sami Parkkinen and Niko Kujoi, three musically talented new Brothers, have joined our band.
Finntastic:
In March, you have just released your new single "Safe And Sound". What is the song about and how would you describe it?
Vesa:
Safe And Sound is about missing your long-lost dear ones, but it also tells you to hang on to this very moment. The sound of the song is a bit folkish and it has several acoustic elements too. And we have noticed, that the song works absolutely great at our live gigs!
(VIDEO: Dark Ride Brothers) The new Dark Ride Brothers song "Safe and Sound" is a vivid-rocking song with an amazing music video, which has been created by using many lovely pictures of the fan's pets.
Finntastic:
How did you come up with this crazy idea of collecting pet photos in order to create a music video for the song?
Sven:
The idea for the video was born after the last vocals session on our way back home from the studio, in the middle of the dark Vaalimaa road. I was talking to Vesa about the basic message of the song. And suddenly we realized, that our beloved pets are part of our memories too! Then we came up with the idea of asking the Dark Ride Family to send us pictures for a music video. The engagement of our followers was deeply moving, and the almost 300 pictures have totally floored us! It's an honour for us to have all these stories as a part of our music video.
Finntastic:
What kind of songs besides "Safe And Sound" we will find on your just released debut album "Join the Ride"?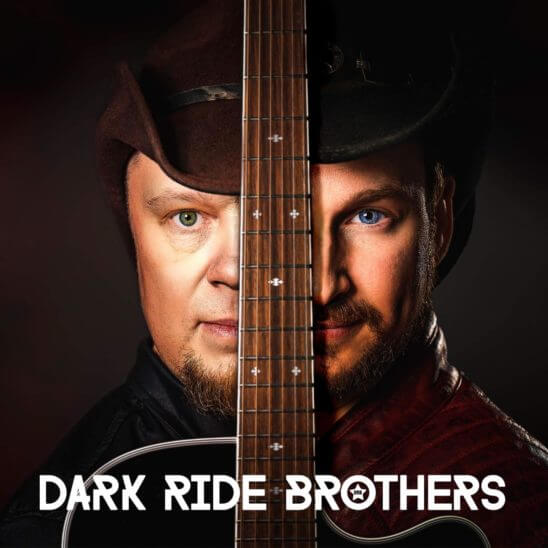 Vesa:
"Join The Ride" is going to be like our Dark Ride Family: different personalities, warm hearts and wonderful people with a smile on their faces, but also sad stories every now and then. You will find three different editions of our "Join the Ride"-album in our web-shop: the basic CD and a silver and gold box edition. Just check out our website to get some further information.
Finntastic:
And how did you select all the songs for the debut album?
Vesa:
It was pretty easy: we've been recording these ten tracks over a couple of years and suddenly we noticed that we have an album with ten pretty good songs in our hands! So for us, it was the perfect time for an album release! *smiles*
Finntastic:
Which song of your debut album will come out next as a single?
Vesa:
Most likely our next single and video release will be a raunchy rock song titled "Supernatural".
Finntastic:
You will come to Germany for a new concert tour in early summer 2019! Where can we see you live on stage?
Sven:
We will be playing concerts in several bigger and smaller cities for instance in Berlin and Hamburg. Some are large-scale rock shows, and some will be unplugged concerts. Some of our gigs are traditional concerts with support acts, such as our gig at Maria's Ballroom on 21 June. The easiest way to get information on ticket sales is to check out the venue's website. Others are festival gigs such as the concert at Altstadtfest Salzgitter on 29 June, which means, there is no entry fee. All live gigs can be found on our website and we will be adding a few more soon.
Finntastic:
One amazing gig of your upcoming German concert tour will be a live gig at the western city "Pullman City Harz" in Hasselfelde on 24 June 2019! What a cool location! Just made for modern countryrock like yours! What does it mean for you to perform at such a great location?
Sven:
Yeah! Pullman City Harz is a great location and we're so excited to finally play a gig in a real saloon! Although we plan the setlist for every concert according to the venue and occasion, we always interact with the people and react to the audience during the gig, so we never really know what will happen and that makes every show a special experience for both us and our fans.
Finntastic:
Your band will also have a live gig in Sven's old hometown Uelzen. How does it feel for you Sven, to play in front of family, old friends and people of your home city?
Sven:
It's amazing to play in my hometown, although I don't even know yet where we will be playing as it's a Monday, but we will. And another thing that I'm looking forward to is to spend a little time there and show Uelzen to the other Dark Ride Brothers. It's a beautiful city and they already fell in love with the place the last time we went there for a couple of hours. This time we will have two days to explore the town!
Finntastic:
Do you already have some other plans for 2019?
Vesa:
We have a nice bunch of gigs coming up in Finland and in Italy. And we will also be recording new music in October.
Sven:
…and maybe we will play in another country we've never been to so far, but nobody else knows that we're going there yet, because I only got the idea yesterday! Hah! Stay Tuned!
Finntastic:
Thanks for the nice interview. It was great to talk to you again. And of course I am looking forward to seeing you live on stage at Pullman City Harz!
Sven:
Thank you Inken for your great support. It will be a pleasure to meet you in Hasselfelde!
---
About the Finnish-German pop-rock band Dark Ride Brothers
"Dark Ride Brothers" is a pop-rock band from Imatra, southeastern Finland. The band was founded by the German emigrant Sven Langbein, who comes originally from Uelzen, and the Finnish metal guitarist and songwriter Vesa Winberg. Other band members are Joni Takalo (percussion, drums), Sami Parkkinen (violin, fiddle), Henri Varis (bass) and Niko Kudjoi (guitar). The band has already played at various stages in Finland and Germany, e.g. in small bars and clubs like Alppimaja or Kaiserkeller Hamburg, as well as at big festivals, like the Finnish LappeeFest and at some really unusual places like in driving buses or saunas.
(VIDEO: Dark Ride Brothers) Unusual jam session: the band is performing "That Smell" by Lynyrd Skynyrd in a driving bus.

The band describes their music style as a "powerful pop-rock firework with an extra portion of vivid country elements". With this special "Dark Ride sound", the band has already built up a big fan base of country and rock music lovers in Finland and Germany, who like to join their concerts and their "Dark Ride" to the Wild West of Eastern Finland. Also country legend Johnny Cash would have certainly enjoyed this special kind of country music style.
In March 2019, the band has published their new single "Safe And Sound". On 19th April 2019 the Finland-Cowboys have also released their debut album "Join the Ride", which can be ordered as a basic, silver or gold edition in the CD-Shop on the band's website.
Moreover, the Dark Ride Brothers will start touring in Germany again in June 2019. Highlights will be a live gig on 24th June 2019 at "Pullman City Harz", one of the most famous German western cities and an open-air concert at Altstadtfest Salzgitter on 29th June.
More informationen about the band, their music and all tour dates, will be found on their website as well as on Facebook, Instagram and YouTube.
---
*This blog post is a cooperation with the Finnish-German pop-rock band Dark Ride Brothers, who has provided all the prizes for the prize competition.
---
Dark Ride Brothers Reloaded Quiz 2019
What about winning a Dark Ride Brothers debut album "Join the Ride"? Answer the following two questions below, write your answer in a comment under this post or send it to info@finntastic.de until May 19th 2019 and you will automatically take part at the Dark Ride Brothers Reloaded raffle! Maybe soon, you are the lucky winner of one of three studio albums "Join the Ride"!
Dark Ride Brothers Reloaded Quiz 2019:
What do you like about the Dark Ride Brothers music style?
Where should the band get to play live gigs in future?
Have fun and good luck!
Inken, Janne-Oskari and the Dak Ride Brothers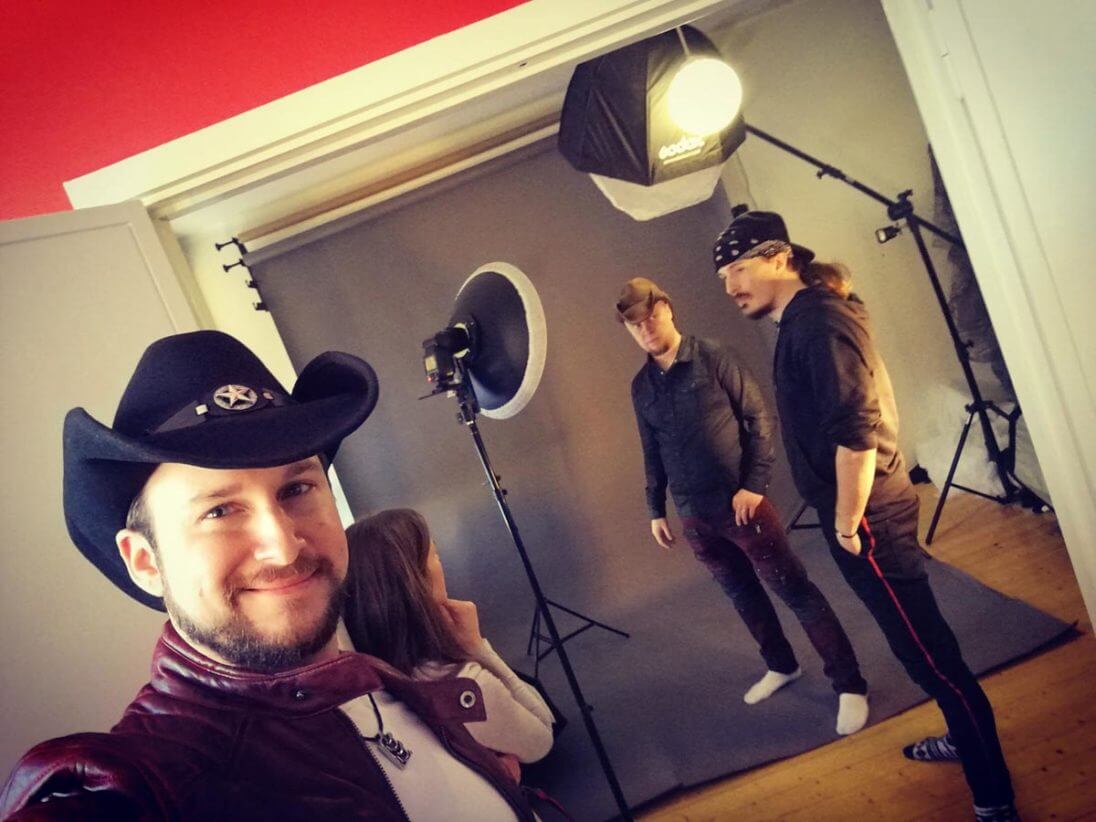 ---
Here are the winners of the DRB-Reloaded Quiz:
Congratulations to all the three winners: Kora, Barbara and Christian B!
Everyone of you has won a debutalbum "Join the Ride"! Enjoy Listening!
Inken, Janne-Oskari and the Dak Ride Brothers
---
Terms of participation, competition guidelines and data protection and privacy policy
By participating at this prize competition, the participants accept the following terms of participation, competition guidelines and privacy policy.
Applicable Law for this prize competition is the law of the Federal Republic of Germany. If individual conditions of participation and/or competition guidelines be or will have become invalid, the validity of the remaining guidelines will remain unaffected.
Terms of participation
The competition is open to any person aged 18 years or older, who is primarily resident of the Federal Republic of Germany, another country of the European Union as well as the following countries: Liechtenstein, Norway, Iceland, Great Britain and Switzerland.
The participation in the competition is only possible online via this blog post at www.finntastic.de. The participation is free of charge. The participants will not incur any expenses (not either for packaging and postage)! All lottery prizes due to the fact that they are not high-priced, will be send in general uninsured.
Each person may only enter the competition once. Multiple participations e.g. with different name profiles or e-mail addresses are not permitted and will automatically lead to an exclusion from the competition, in case it becomes obvious.
To participate in this raffle, all participants must answer the following questions and have to post their answer in a comment under the blogpost or send the answer to info@finntastic.de:
What do you like about the Dark Ride Brothers music style?
Where should the band get to play live gigs in future?
Prize/profit
These are the prizes, provided by the Finnish pop-rock band Dark Ride Brothers, which will be raffled among all participants of the "Dark Ride Brothers Reloaded Quiz 2019":
3 x 1 album "Join the Ride"
Material prizes are not paid out in cash and are excluded from exchange. Winnings cannot be transferred to third parties. There is no warranty or guarantee claim on the prize. Legal recourse is excluded.
Competition procedure
The competition runs from the April 19th 2019 until the May 19th 2019 exclusively on www.finntastic.de. The closing date for a participation is the May 19th 2019 at 11:59 p.m.. Subsequent solutions and comments, which will be send after this date, can not be considered for the prize draw of this prize competion.
The determining of the eligibility of the participation as well as the prize draw will take place on May 20th 2019. The prices (see section: prize/profit), provided by the Dark Ride Brothers, will be raffled among all participants, who fulfill the terms of participation. The winners will be selected at random. All winners will be notified by email.
In case of winning, Finntastic needs the correct first and last name as well as the postal address of the winners. These information will only be passed on to the Dark Ride Brothers, who will be shipping the prizes later on. If a winner does not reply within seven days after being notified by e-mail, the claim to the prize will lapse.
Exclusion of participants
Finntastic reserves the right to exclude or delete participants from the participation, if they fail to complete the task or violate the conditions of participation or the competition guidelines. Participants, who manipulate the raffle (e.g. by entering several e-mail addresses or name profiles) can be excluded from the prize draw, when noticed. If a manipulation is figured out later, prizes can even be subsequently withdrawn and prizes already delivered can be reclaimed. And also the misuse of foreign names will lead to an exclusion from the raffle too!
Cancellation/ Suspension of the competition
Finntastic reserves the right to cancel or interrupt the competition if she becomes aware of any manipulations or if it is no longer certain that the competition will be carried out properly. This applies for instance in case of hardware or software failures, program errors or unauthorized intervention by third parties (e.g. computer viruses, cyber-attacks) or if legal problems exists.
Data protection and privacy policy
As far as personal data of participants are collected for the prize competition (e.g. first name, surname or nickname, postal address and e-mail address), these personal data will only be collected, processed and used by Finntastic for carrying out the prize competiton. No data will be passed on to third parties, with the exception of the pop-rock band Dark Ride Brothers, who need the address for shipping the CDs to the winners later on.
The winners agree that in case of a win their first and last name or nickname will be published permanently on www.finntastic.de as well as on the social media channels of Finnastic (Facebook, Instagram and Twitter). If the winners disagree with that, they have to announce it to Finntastic after getting the price notification!
A participation in the competition does not lead to a subscription of the "Finntastic Newsletter"! Those who wish to subscribe to the newsletter have to do that by using the newsletter form on www.finntastic.de.
Person in charge of the prize competition
This is a private prize competition, organized by Inken Paletta, Josef-Brix-Straße 42, 65187 Wiesbaden, Germany, the site operator of www.finntastic.de (For more information: see imprint ). The prizes (see also section prize/profit) was provided to the site operator by the Finnish-German pop-rock band Dark Ride Brohters. The raffle is not connected to any other companies or persons and even not to social media channels such as Facebook, Instagram or Twitter.
The recipient of the personal data and information provided by the participants, thus the contact person and person responsible for this prize draw, is only the website operator of www.finntastic.de. All questions, comments and complaints concerning this competition should therefore be directed to info@finntastic.de.
Disclaimer/Exclusion of liability
The organizer (which means the website operator of www.finntastic.de) as well as the Dark Ride Brothers are not liable for the shipping risk. Moreover, the organizer of this prize competition (which means the website operator of www.finntastic.de) is not liable for direct or indirect damages resulting from the participation or the inaccessibility of the internet server. Unless they are due to gross negligence or wilful misconduct for which the organizer is responsible. Legal recourse therefore is excluded.