Mikko "Voutsa" Voutilainen and Atte Pohjonen know each other from school. They started to make music together when they were teenagers. 2016 they came up with the idea to create powerful metal covers of famous pop and rock songs. Their first one was a Stig cover of the song "Niks ja Naks" . One of the coolest metal covers so far is a Billie Eilish cover of the song "Bad Guy" in an amazing Rammstein version. Now the two guys from Finland have published their own first double single. In an inspiring interview the two metal heads tell us more, about their two own songs "Syöksykierre" and "Saatto", about their band history and what they love about powerful metal beats and screaming vocal techniques.
Stomach punching metal melodies from Seinäjoki – Interview with Mikko Voutilainen and Atte Pohjonen from Voutsa
Finntastic:
Moikka guys, nice to meet you! Just tell us about your band history. Where in Finland are you living and since when are you making music together?
Mikko:
Our band is located in Seinäjoki, Western-Finland. We started making covers as some kind of a joke in 2016. But we already started playing together when we were teenagers. We played a lot of covers and thought we were so cool! *smiling* At this time, Atte had his own band and someday they needed a vocalist. He asked me, if I was interested to join the band as a singer. At that time I was already working on my "Fry Scream" with the help of Melissa Cross "Zen of Screaming" dvd. She is a really famous vocal teacher for metal screaming from New York. So I could contribute the things I learnt from her training dvd.
Finntastic:
How difficult is it to play with the voice, like this?
Mikko:
Of course it is pretty hard to get the technique right at first. But with right guidance even I managed to learn it. Nowadays it is like driving a car. There is a couple of different screaming styles. Most of the time I tend to use fry screams. There are also "False Cord" and this kind of "Hybrid" style which is basically more traditional singing, combined with extreme distortion. Only recently I have started working on this "False Cord" technique. For more information about all this metal screaming techniques check out the website of Melissa Cross.
Finntastic:
Is there any special meaning behind your band name "Voutsa"?
Mikko:
When I started school there was another Mikko in my class. First I was called Mikko V but later my teacher fabricated the nickname "Voutsa". First the name was used as some kind of artist name. But making covers has reached such big level, so the name stayed.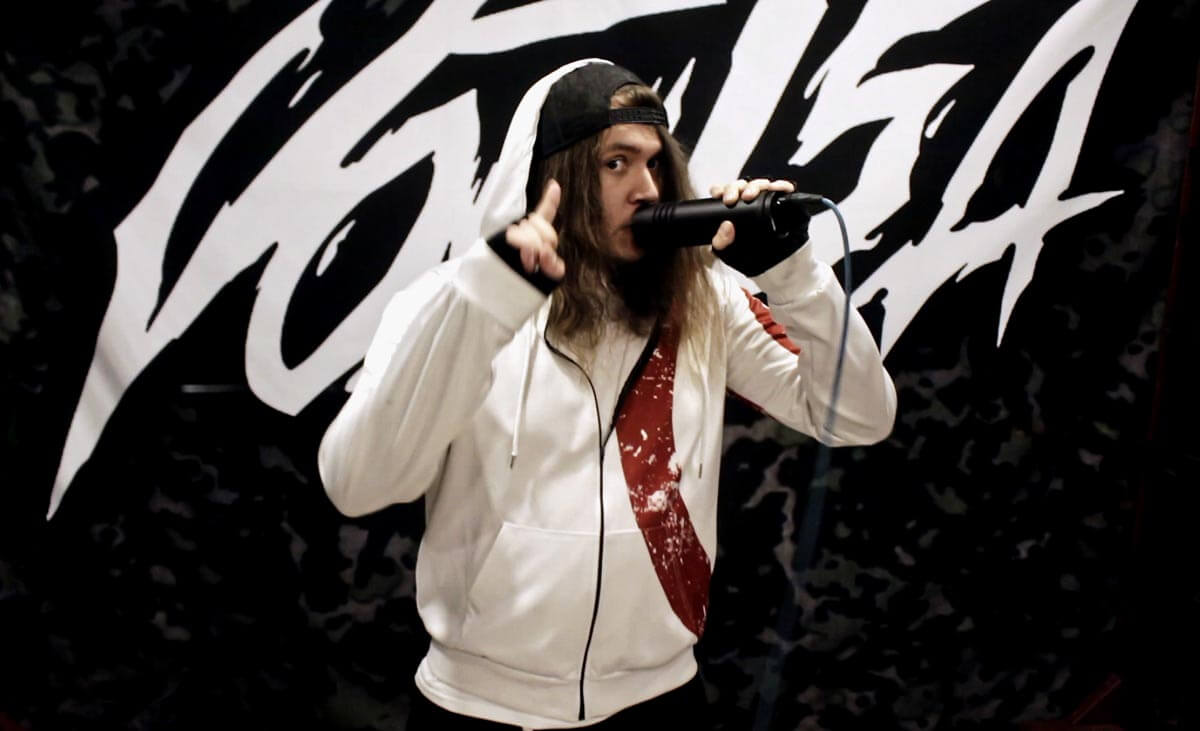 Finntastic:
And what is the meaning behind the recording studio name "Gut Punch Music"?
Atte:
At first the name was supposed "Gut Punch Drums", as I thought of making drum sample libraries. But then priorities changed and I needed a name for my studio and decided to apply the name in that context. The idea behind the words "Gut Punch" is, that everything I do, soundwise should feel like a punch in the stomach.
Finntastic:
You just released your first own double single with the two songs "Syöksykierre" and "Saatto". What can we expect of your music in general?
Mikko:
This double single contains a lot of disco vibes. I've always liked metal music and 80's disco so, why not put them together? We don't think about the genres. We do what feels cool for the moment.
(VIDEO: Voutsa) "Syöksykierre" is one of the first two own songs Voutsa published in July 2020.
Finntastic:
What are the two songs "Syöksykierre" and "Saatto" about? And what has inspired you for the two songs?
Mikko:
The inspiration for "Syöksykierre" and "Saatto" came from my personal life. They are telling a story about a family mess I witnessed. By the way, the covers are designed by "Teemu Halmetoja" from the Finnish death metal band "Funeral for the masses".
Finntastic:
You have already created some really amazing covers of well known songs e.g. a cool Billie Eilish cover of the song "Bad Guy" in a Rammstein version? What do you like about the German band Rammstein and how popular is the band in Finland?
Mikko:
Yes, we made a Rammstein stylish cover from Billie Eilish's song "Bad Guy". I like their music style. Rammstein are always amazing live. They are really unique and I think also very popular in Finland. We will hardly ever make an actual Rammstein cover, because their music is too good to be ruined by us. *smiling* If there will ever be another suitable pop song to be forced in Rammsteinish vibe, then so be it! *laughing*
(VIDEO: Voutsa) One of Voutsa's famous covers is a Billie Eilish Cover of "Bad Guy" in a Rammstein style.
Finntastic:
Which of your covers is your favourite and how do you select songs for covering? What song will you cover next?
Mikko:
I think one of the best covers we have made is either a cover of Pyhimys's "V!@%# Mikko" or Stig's "Sitä sun tätä". They just have this amazing groove to play, so it's too much fun.
Atte:
It's hard to choose a favourite cover, because we try to improve ourselves in every new cover. So at least in theory the newest should be the best. But if I'm forced to pick two covers, this would be Paleface's "Käsi iskee" and Stig's "Sitä sun tätä"
Finntastic:
Who of you is writing all the songs or metal cover arrangements?
Mikko:
First we pick a song that is really good as an original. Both of us need to feel good about the song, before we even start planning anything. Atte is the master of arrangements. I try and keep Atte contained when he starts having too many "Good ideas". Same goes on my direction too, *laughing*. We have this strange connection, while we are making music. We often read each others minds!
(VIDEO: Voutsa) The music video for the cover of Laura Voutilainen's "Miks ei" was filmed in the Club B52 in Ähtäri, Finland.
Finntastic:
You also made a lovely version of the Laura Voutilainen song "Miks ei". Tell us a bit about the story behind the cover and music video.
Mikko:
There is no significant story behind the song choice. Great song, so we decided to cover it! We filmed the cover in one of my work places Club B52, Ähtäri, Western Finland. I was actually working that night as a bouncer. It was easter night and the club was packed. The owner suggested, I would do a one timer show that night, so I did, *laughing* That's one of my favourite filming sessions ever! *laughing*
Finntastic:
Mikko, you are also a band member of the Swedish metal band "Volturyon"? What does the band name mean, which is your part in the band and what kind of music can we expect from the new single "World Pandemic", which has been published on Mai 28th, 2020?
Mikko:
I joined Volturyon back in 2017. As far as I know the band name doesn't mean anything. It is fully fictitious. My part in the band is making some of the lyrics and the vocals. Maybe I will write some riffs in the future who knows? When I was approved into the band, most of the songs were written already, so I started writing my own lyrics for the upcoming album. You can expect one badass album "Xenogenesis", which came out by ViciSolum Productions in July 24th!
(VIDEO: Volturyon) "World Pademic" is the new single of the Volturyon album "Xenogenesis" which came out in July 2020.
Finntastic:
Thanks so much for the interview. It was really nice to get to know more about your music. Hope to see you soon in Finland. Would be nice to hear your Rammstein cover of the Billie Eilish Song "Bad Guy" live. 😉
---
About Voutsa
Mikko "Voutsa" Voutilainen and Atte Pohjosen, who is the owner of the music studio Gut Punch Audio, are old school friends. 2016 the two guys started to create metal covers of famous songs. Their first one was a metal version of the Stig song "Niks ja Naks". Their coolest metal cover so far is probably the Billie Eilish cover of the song "Bad Guy" in an amazing Rammstein version. Another nice cover is a metal version of the Laura Voutilainen song "Miks ei". Laura Vuotilainen is a well-known Finnish pop singer, who participated 2002 at the Eurovision Song Contest. The video to the cover of "Miks ei" was directed during Mikko's shift at the Ähtäri Club 52 with the permission of the club owner.
First double single with two amazing songs came out in July 2020
But the two guys also create their own music. On July 21st, 2020, they have published their first own double single with the songs "Syöksykierre" and "Saatto", which they recorded at Atte's recording studio. The CD cover is desinged by Teemu Halmetoja. More information about Voutsa you will find also on Facebook, Instagram, Youtube and Spotify.
The Swedish metal band Volturyon and their new album "Xenogenesis"
Mikko is also a band member of the Swedish Death metal band Volturyon, who have just published their new single "World Pandemic" on May 28th, 2020.