Amira Mountassir is a young and talented Finnish musician from Finland. She has played already many private and public live gigs in the Turku region. Since she was a child, Amira is addicted to music. With the age of eleven, she started playing the piano. Singing and playing the guitar she learned from her mother, Yvonne Gräsbeck, who was a famous full-time musician . Moreover, on her blog "La Dolce Musica" Amira is blogging about music and travelling. Why she can not live without music and why she started to write about music on her blog, she told me in an inspiring interview.
Music is my passion! – Interview with Amira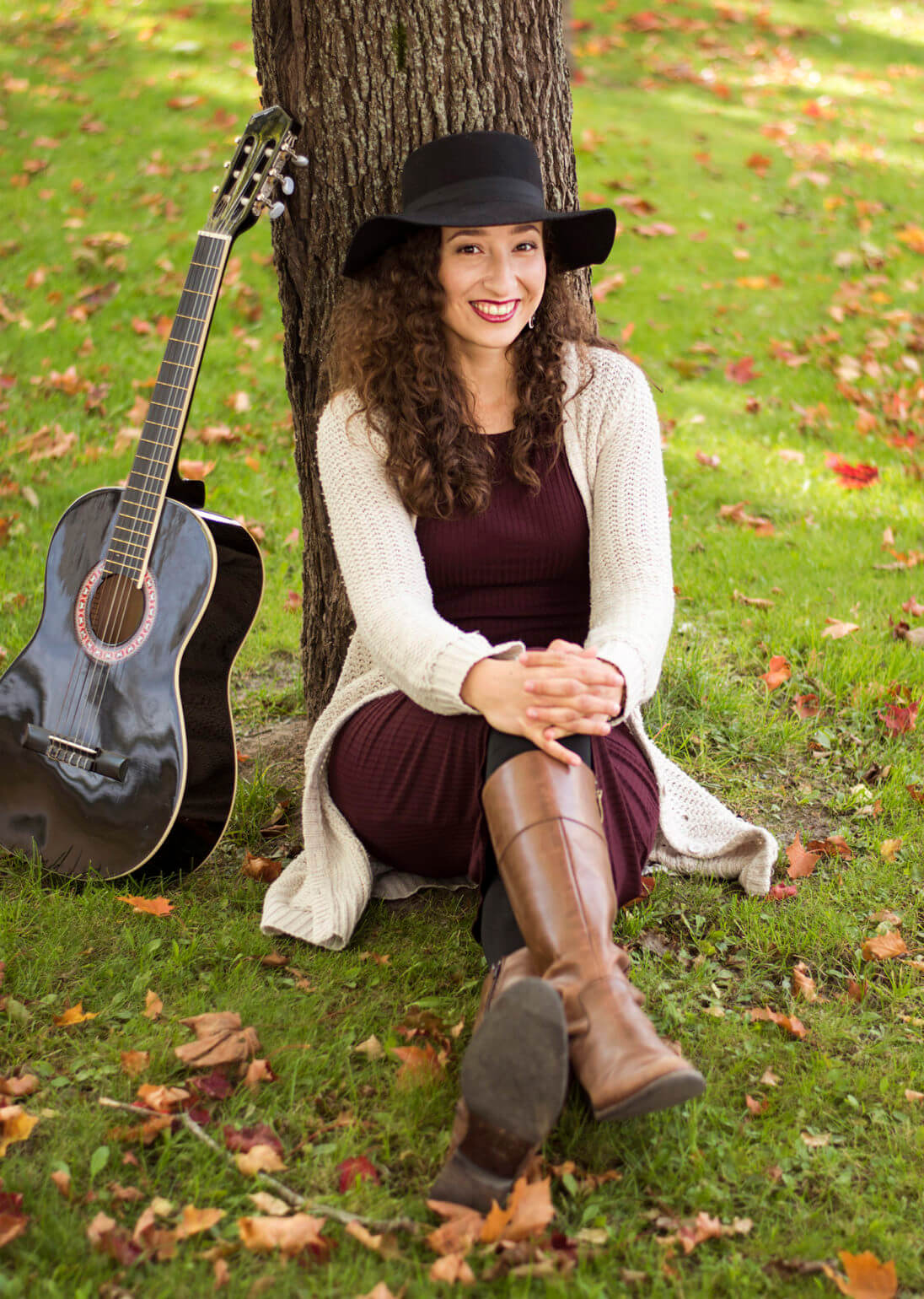 Finntastic:
Dear Amira, thank you very much, for taking the time to do this inspiring interview on my Finland blog. Before we talk about your blog and music business, just tell me a bit more about yourself. You are living and working in Turku now. Are you born there?
Amira:
No, I'm not born in Turku. I'm originally from Helsinki, but I do have roots in Turku too. I moved to Turku to study chemical engineering at Åbo Akademi University. I am a Swedish-speaking Finn, which means that Swedish is my mother tongue. I speak fluently Finnish, but my Swedish is much stronger.
As you might know, in Finland we have two official languages; Finnish and Swedish, because Finland has been a part of Sweden for hundreds of years before Russia took over. That is why there still exists a Swedish-speaking minority in Finland. Observe, they are Finns not Swedes! ?
Finntastic:
You have a Master of Technology in chemical engineering. At the moment you are a PhD candidate in polymer technology at Åbo Akademi University. How did you get inspired by music?
Amira:
Music has always been a part of my life. All my relatives from my mother's side are professional musicians in classical music. My mother, Yvonne Gräsbeck, was a coloratura soprano, which means, she was an operatic soprano singer, specialized in agile runs, leaps and trills. And she was an amazing guitarist too! A passionate musician with the most amazing voice! She inspired me as a child. I've uploaded most of her songs on YouTube so you can listen to her music there.
Unfortunately, she died of pneumonia in 2008, when I was sixteen years old. It was definitely not the easiest time for me. My entire world was shaken. At this point of my life it was even too painful for me to sing and play music, because it hurt so much. Today, music is something that makes me feel still connected to her somehow. My fondest memories are the evenings when my mother practised guitar music in the kitchen. She was in her element, where she felt most comfortable.
And my father encouraged me to start playing the piano, when I was eleven years old. During my teenage years, music was my escape from everything around me.
Finntastic:
And what does music mean for you today?
Amira:
Very difficult to say. Whenever I feel happy, I play some music, and when there are darker days, I also play music and I feel much better.
Finntastic:
What kind of instruments are you playing? You write on your blog, that all your instruments have a special name. What is the intention to do that?
Amira:
Mostly I play the piano, but I love also playing the guitar too and I always want to try new instruments like ukulele and different drums like darbuka and rebolo. By the way, a darbuka is an instrument known in belly dancing music and a rebolo is a typical drum in Brazilian samba music.
Naming my instruments started just with a simple thought: Some people name their cars because they are so precious, so I thought, that I must name my piano, because he is also very precious to me. It all started from there. It is also fun and it gives more value to my instruments.
Each instrument has its own story of how they got their name. My piano for example is Alejandro, a bit Lady Gaga inspired and also many other instruments receive names that I find suitable for them. The darbuka for example is Layla because darbuka is an Arabic instrument and I saw this drum as a lady due to its beautiful curve. And for me drums are also a bit sassy. *smiling*
Finntastic:
Your voice sounds amazing. Have you already taken singing lessons?
Amira:
Thank you so much! No, I haven't had any singing lessons so far. My mother used to give me tips on how to sing correctly while I was practicing. I think the most about singing techniques I have learned from her.
Finntastic:
I saw on your blog and also on your Instagram channel that you are making covers of famous songs. What is your favourite song and do you write your own songs too?
Amira:
That's a difficult question. My favourite song depends on my mood and it changes all the time. My songwriting journey has started just recently, because in the past years, I have been mostly focused on my studies.
Finntastic:
What characterizes your music style? And what is your favourit singing language?
Amira:
It's hard to classify myself, but I just like to put my own interpretation into everything I do. Since I accompany myself on piano or guitar it is mostly acoustic.
Moreover, I love singing in many languages because every language has its own way of interpreting a song. One of my favorite languages to sing is in Italian. It is difficult to choose, but I feel that I can express myself differently in various languages.
Imagine that, when you are telling a joke in English. It is very funny in English, but when you translate the same joke, it might not work for example in Swedish. Trying to find the exact same meaning is not always easy. That way one song can change a bit if the lyrics are translated into another language. It doesn't mean that one or the other is bad. It just changes a bit because expressions aren't the same in all languages.
At the moment I'm playing a bit of everything, mostly pop, jazz and soul. My own music is acoustic and I'm looking forward to putting something new into the Finnish music scene. At the moment, I haven't published any of my own songs right now, it's a long process but I'm slowly getting there. And if anyone wants to book me for gigs I play acoustic music varyingly according to what the customer wants.
Finntastic:
Where can we listen to your music?
Amira:
On my webpage Amira.fi you can find links to my other platforms with covers: Facebook, Instagram, Youtube and Soundcloud. When I'll publish my own songs later, I think I'll put them on Spotify.
Finntastic:
Which Finnish musician has inspired you the most? And do you know which music is very popular in Finland at the moment?
Amira:
Honestly, I do not listen so much to Finnish music, so I have not found any Finnish artist, that have inspired me to that extent. But I appreciate for example Anna Puu and Jenni Vartiainen as musicians. They are among the latest popular artists in Finnish music industry. I cannot say, which kind of music is in particular popular right now in Finland, but I guess, the usual Finnish "iskelmä" and Finnish pop music.
Finntastic:
What was the Intention to start blogging? What do you mean by saying "I want to break cultural borders with my blog by music and travelling"?
Amira:
I want to share my joy in music, different themes, interviews, music, travels and so on. Music is also our mutual language and no matter what language you speak you can always touch people with music.
Finntastic:
There has been also a sad experience in reference to music in the past. You survived the Turku attack in August 2017. It happened, while you were making street music on the market place. Has it influenced your music and your way seeing the world?
Amira:
I stopped making street music at least for a while. It was quite a shocking experience. It makes me see everything from a new perspective. But we should not let these events prevent us from living, and we should not continue being afraid of continuing our normal lives. Otherwise, this is not life anymore!
Finntastic:
On your Blog "La Dolce Musica" you are writing about music and you have already made several interviews with famous musicians and rising artists from Finland. What was your most inspiring interview so far?
Amira:
I like meeting different artists, especially the ones that are working on their way up. Many of them are truly inspiring, it is really difficult to say which is more inspiring. But check out some of my interviews for example with Teemu Sätilä, a singer and songwriter from Finland.
Finntastic:
Would it be a dream for you to participate at some big event like the Eurovision Song Contest or some Finnish talent shows?
Amira:
Sure it would be great to participate in the Eurovision Song Contest someday with my own song, just like my mother Yvonne Gräsbeck did in 1979. She came second in the Eurovision qualifications that year with the song "Hyvästi Ystäväin", which means farewell in Finnish. But I would not participate in any talent shows, because I honestly do not like their concept.
Finntastic:
Do you have some next live gigs in Turku or elsewhere in the next time? And are you working together with other Finnish and international artists?
Amira:
I have live gigs regularly, mostly private events. Some are open for everyone and you can follow the events on my Facebook page. I do notify of the open gigs also on Instagram.
Anyone can send me an offer for a gig at info@amira.fi! At the moment I'm working solo, occasionally I love making music with my musician friends, because we have something mutual.
Finntastic:
One last question: Do you have some nice insider travel tips for the Turku region or Finland in general? What is your most favourite place in Turku?
Amira:
Oh, that's so difficult! I love Turku and there are so many places to see. I keep constantly finding new places to explore. During summertime, I love visiting the archipelago and also Ruissalo. Being close to nature is one of the things I love the most. There are many small beautiful lakes to visit and some places also have sauna, so you can do some ice swimming in many places in winter time.
Finntastic:
Thanks for the inspiring interview and all the best for your PhD and also for your music. Would be nice to meet you in Turku, when I will be in town for the next time.
Amira:
Welcome! ?
---
About Amira Mountassir
Amira Mountassir is a chemical engineer from Turku, who is addicted to music since she was a child. With the age of eleven, she started playing the piano. Moreover, she learned to sing and play the guitar from her mum Yvonne Gräsbeck, who was a famous full-time musician, who participated at the Eurovision Song contest in 1979.
That's why Amira loves to make music too. She is a really talented musician and has played already for many private and public live gigs in the Turku region. At the moment she is working on her first own songs.
---
Amira on the web
Amira's lifestyle and travel blog "La Dolce Musica"